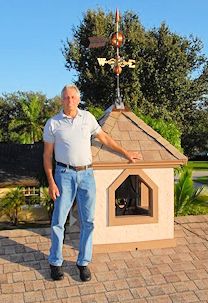 Hello and thank you for visiting us. My name is Felix Sapienza. We are a small family-owned roofing company. Along with my son Brian and my brother Bob we have been repairing roofs in South Florida since 1985. My wife Nora does all the office work.
We specialize in roof REPAIRS only and DO NOT install new roofs. We do all the work ourselves and we never sub out any work and we have tens of thousands of happy customers!
I hold a Palm Beach County and Broward County Certificate of Competency (license). I am State Registered and have a million-dollar liability policy. We are third-generation roofers. We come from Cleveland Ohio and three of my brothers still run a roofing company today.
We repair all types of roofs, decayed fascia board and roof sheathing. We repair cement tiles, clay tiles, asphalt shingles and flat roofs.When we fix a roof it stays fixed!
We do not skimp on the quality or quantity of materials we use and we have the know-how to find and fix roofs that most roofing companies can't. We also work with many Realtors and fix problems found during inspections when homes are sold.
We serve southern Palm Beach County and northern Broward County.
Our work is guaranteed.
Our estimates are free.
Call us today! We will inspect your roof for leaks, loose and missing tiles and decayed wood.
Remember: small leaks can become Big problems later.
Call today for a free estimate.
Felix Sapienza, Inc.
The Roof Repair Expert
(561) 487-3317
Palm Beach County license: U-14033
Broward County license: 89-5216-R-R
State registration: RC0050735